The Doctor Chronicles: Episode 1 "Fixed Points"
The Doctor Chronicles is rated AD-PG (Parental Guidance is advised due to themes of death and change/plus a gun or two) (

Rating System

)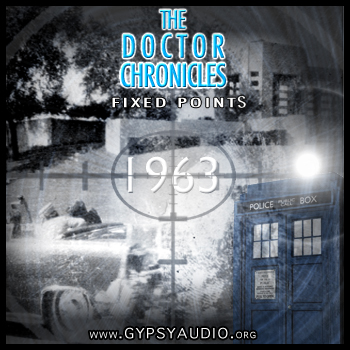 Gypsy Audio Presents:
The Doctor Chronicles: Episode 1 "Fixed Points"
Fan Audio Written by Gwendolyn Jensen-Woodard, produced by Gwendolyn and Alex, Mixed by James Leeper
Based on "Dr Who" the TV series by BBC TV 
Our Cast Includes:
Starring:
Terry Cooper          as The Doctor
Colin Snow               as Lee Harvey Oswald
Melissa Bartell       as Morganne Briggs
Chris Canary            as Jack Ruby
AND                            ………
The Doctor-Who theme is a mix of different BBC Who themes.
Doctor Who, owned by the BBC. No Rights Infringement Intended.
Sound effects provided by James Leeper
Album art by James Leeper
If you'd like to leave us a feedback, use our Facebook Page for Gypsy Audio or our official forum on Audio Drama Talk.
This work is licensed under a Creative Commons Attribution-NonCommercial-NoDerivs 3.0 Unported License. Gypsy Audio, November 2013
Podcast: Play in new window | Download