To subscribe to Stargazers:
iTunes Users: click here
Users of Other Software: click here
To subscribe to all Gypsy Audio shows:
iTunes Users: click here
Users of Other Software: click here
Stargazers is rated AD-G (suitable for Children of all Ages) (Rating System)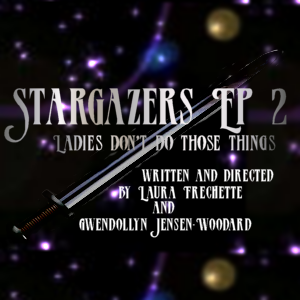 Download | 32:40
Stargazers: Episode 2 – Ladies Don't Do Those Things
Created by Laura Frechette
Written and Directed by Laura Frechette and Gwendolyn Jensen Woodard
Post-Produced by Laura Frechette
Produced by Laura Frechette, Gwendolyn Jensen-Woodard and Alex Gilmour
Starring:
Gwendolyn Jensen Woodard as Rhiannon
Laura Frechette as Brea
Paul W. Campbell as Stephen
Ronnie Rowlands as Aiden
Michael Hudson as Duke Froedrick Clare of Yalding
Mark Kalita as Cedric
Michael Stokes as Guard Ethan
Stefania Lintonbon as Lady Erin
P.G. Holyfield as Marcus Pitcher
Dave Frizzell as the Stablehand
Spinderfly as the Lady's maid
Colin Snow as Rada
AND
Ara Pelodi as Duchess Gwendolyn Clare of Yalding
AND DAVID MACGIVER as "PUCK" (with a big mea culpa!)
Special thanks to  Jim Smagata the students of Theatre Erindale
Music Provided by: Kevin MacLeod at incompetech.com; and "Ladies Don't do Those Things" by Escape Key at vixyandtony.com/music
Stargazers is copyright to Gypsy Audio 2010 and is released under a Creative Commons attribution non-commercial no-derivatives 3.0 license.  www.gypsyaudio.org, and please stay tuned for a preview of Broken Sea Audio Productions "Jake Sampson: Monster Hunter" www.brokensea.com.
Podcast: Play in new window | Download