Savannah Joy Goes to School is rated AD-PG. Contains occult references and is extremely silly. (

Rating Guide

).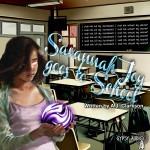 Halloween 2017: Savannah Joy Goes to School
Written and Directed by A.J. Clarkson
Produced by Gwendolyn Jensen-Woodard and Gypsy Audio
Starring:
Carole Stokes- Mrs. Brewster
MJ Cogburn- Darcie Simms, Secretary
Julie Hoverson- Mrs Carmichael
Chris Canary- Nicolas
And
Billy Flynn as Savannah Joy
Sounds Effects were provided by Freesound.org "Music Box Theme" Kevin MacLeod (incompetech.com)
Licensed under Creative Commons: By Attribution 3.0 License.

Art Work by : Thomas Rippert
This production of Savannah Joy Goes to School is protected under a Creative Commons This recording is released under a Creative Commons
Attribution-NonCommercial NoDerivatives 4.0 International license Gypsyaudio.org 2017.
Podcast: Play in new window | Download